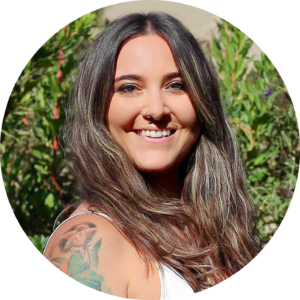 Angie Burnside
Lead Graphic Designer
Meet Angie — a graphic designer extraordinaire here at Mustang Marketing. Angie not only understands the unique needs of each client, but has the eye and talent to bring their creative visions to life — even when they need it by 5 p.m.! And, she's pretty used to us running over to her desk the second she walks into the office.
Angie graduated on the dean's list from California State University, Northridge, with a Bachelor of Arts in graphic design. While at CSUN, Angie was the vice president of the CSUN Student Advertisement Graphics Association, worked as a graphic designer for the CSUN DesignHub, and provided graphic design work for CSUN's marketing and communications department. You might say she likes design. (Hint: You're right!)
Angie knows her design software inside and out, but what really amazes clients is her ability to take PowerPoint beyond what most thought was humanly possible. Beyond her design skills, you can always count on Angie for her positive energy and enthusiasm about each and every project. There's always a little bounce in her step, and that seems to translate into the work she creates.
Born and raised in Moorpark, Angie knows all of the cool hangout spots and best hiking/nature trails. She enjoys visiting local breweries like Enegren and Institution and attends as many electronic dance music (EDM)/indie shows and festivals as her wallet will allow her. Oh, and she wants you to know the best place she's found for ramen is Tatsu Ramen in Hollywood, but she vows to keep searching for one that can top it.
Angie loves watching horror movies. The scarier the better!
Angie played fast-pitch softball for 12 years and was a pitcher. She won MVP two years in a row at Moorpark High School.
Angie and her family are huge Pittsburgh Steelers fans.