We've said it before, and we'll say it again: the most successful marketing campaigns begin with a strong strategy. If you want proof, look no further than our recent work with Rancho Simi Recreation and Park District.
With more than 50 parks, 5,600 acres of open space, and numerous recreational amenities,
Rancho Simi Recreation and Park District offers countless opportunities to play, explore, learn and stay active. But to help the community take full advantage of all RSRPD has to offer, the district needed a way to strengthen its brand identity and build awareness about its programs, classes and facilities.
For all of us at Mustang, this is exactly the type of challenge we live for. A fantastic client with terrific offerings that just needs the right strategy to let their audience know how great they are? Sign us up.
Building a RoadMap
The first thing we did was partner with the district to create a RoadMap to guide their marketing efforts. We analyzed existing data to determine what was working, what wasn't working and where the biggest opportunities for improvement would be. With this context in mind, we outlined campaign goals, identified the audiences we needed to reach, developed messages that would resonate with those audiences and determined the most effective marketing vehicles to implement.
Finessing the Brand
Next, to make sure that all the materials we created to support the campaign would be as compelling as possible and effectively reinforce RSRPD's brand, we helped the district create an editorial style guide, BrandMap and new logo.
The editorial style guide provided guidelines for all things writing related. It described the district's brand voice (personality), and how to convey that voice in written materials. It also clarified style preferences, correct spelling and usage of key terminology, and other writing do's and don'ts.
Meanwhile, the BrandMap identified a new look for RSRPD, providing guidance on the district's color palette, fonts, photography styles and graphics. Building on the look in the BrandMap, we then helped the district refresh its logo.
Creating Collateral
With the district's new look and brand voice established, and a clear idea from the RoadMap of the efforts that would need to be prioritized, we got to work on the actual collateral. With the strategy in place, everything from flyers to social media graphics had a consistent look and feel, with messaging that would drive the right results.
Celebrating Success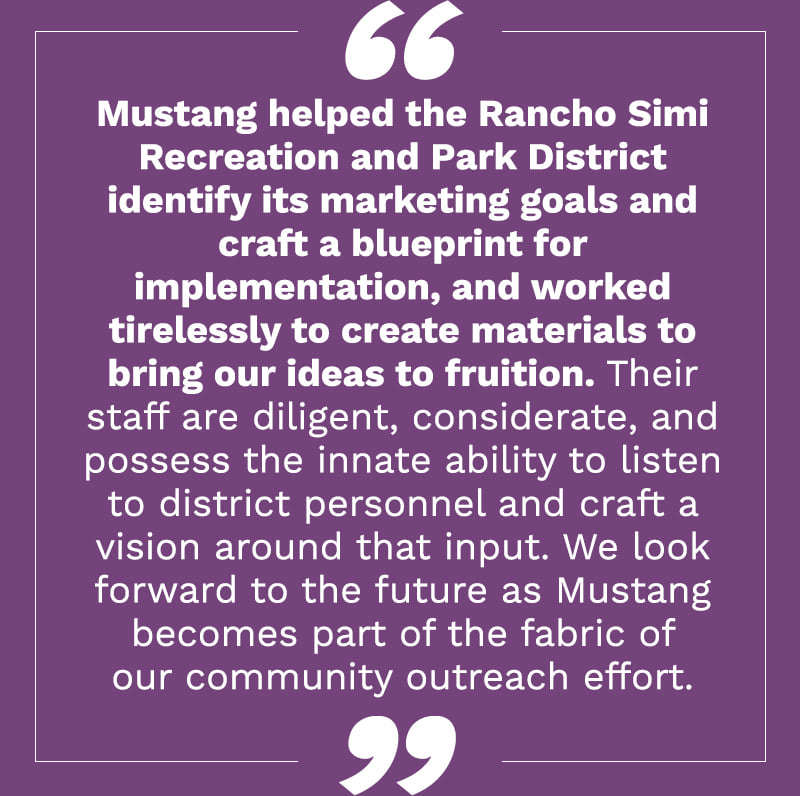 As the various marketing materials were implemented, we performed regular audits to measure engagement and evaluate the results of each effort. And we are thrilled to report the campaign was an overwhelming success.
Since the rollout of its new branding, RSRPD has seen an increase in engagement across all of its platforms (compared to activity in the cycle prior to the new branding launch). The district's Facebook post engagement increased 294%, post reach increased 214% and page follows increased by 86%. On Instagram, the district saw a 19% increase in unique users reached and a 55% increase in content interactions.
RSPRD's digital marketing efforts also saw an increase in performance as a result of the new creative, earning 35,000 impressions more than the previous review cycle. The click-through rate even jumped an impressive 8%.
Want to see where a new strategy can take you? Let's chat.