On any given week, you'll find the Mustang team working on a variety of projects for different clients. Whether we're designing a new logo — or five — launching paid social media ad campaigns, developing website copy, pitching news stories to relevant media outlets, or meeting with clients to discuss short- and long-term goals, each day and each week is different. Ultimately, that's what makes our jobs a blast. Variety is the spice of life, right?
And that variety doesn't just mean a variety in our clientele — there's also variety in the work we do for each client. Some of our clients may only need social media support, while others may request only design services. Others, however, look to Mustang for a wide array of services, allowing us to really do a deep dive into the client's strategy and stretch our creative legs out a bit.
One of those clients is a company we've had the privilege of working with on and off through the years, until more recently, when they called on us to provide in-depth marketing consultation as they looked to rebuild their internal marketing team and revamp their brand. We have loved absolutely every part of this ground-up creative process with them and wanted to share with you some of the results, and what is possible when making the decision to strengthen your existing brand.
What They Needed
Warner Pacific, a leading general agency that helps health insurance brokers grow their business, was ready to overhaul its entire approach to marketing — from the look of the brand to the structure of the marketing team. Founded in 1984, Warner Pacific has a well-established legacy and strong reputation in its industry, and as marketing efforts evolved, the company knew it would be important to find harmony between breathing new life into the brand and continuing to showcase what clients have come to love and trust about Warner Pacific.
What Mustang Provided 
First, we partnered with Warner Pacific to completely revamp and revitalize marketing efforts, starting with providing consultation and insight to help the company hire a new internal marketing team. We also collaborated with Warner Pacific to create a BrandMap to guide the look, feel and voice to be used in future marketing efforts. The BrandMap outlined the company's key brand personality traits and how those traits would come across in written content, as well as color palettes, fonts and imagery that captured the essence of the brand.
From this foundation, we worked with Warner Pacific to create a new logo, develop a launch campaign and implement a wide variety of exciting new marketing materials.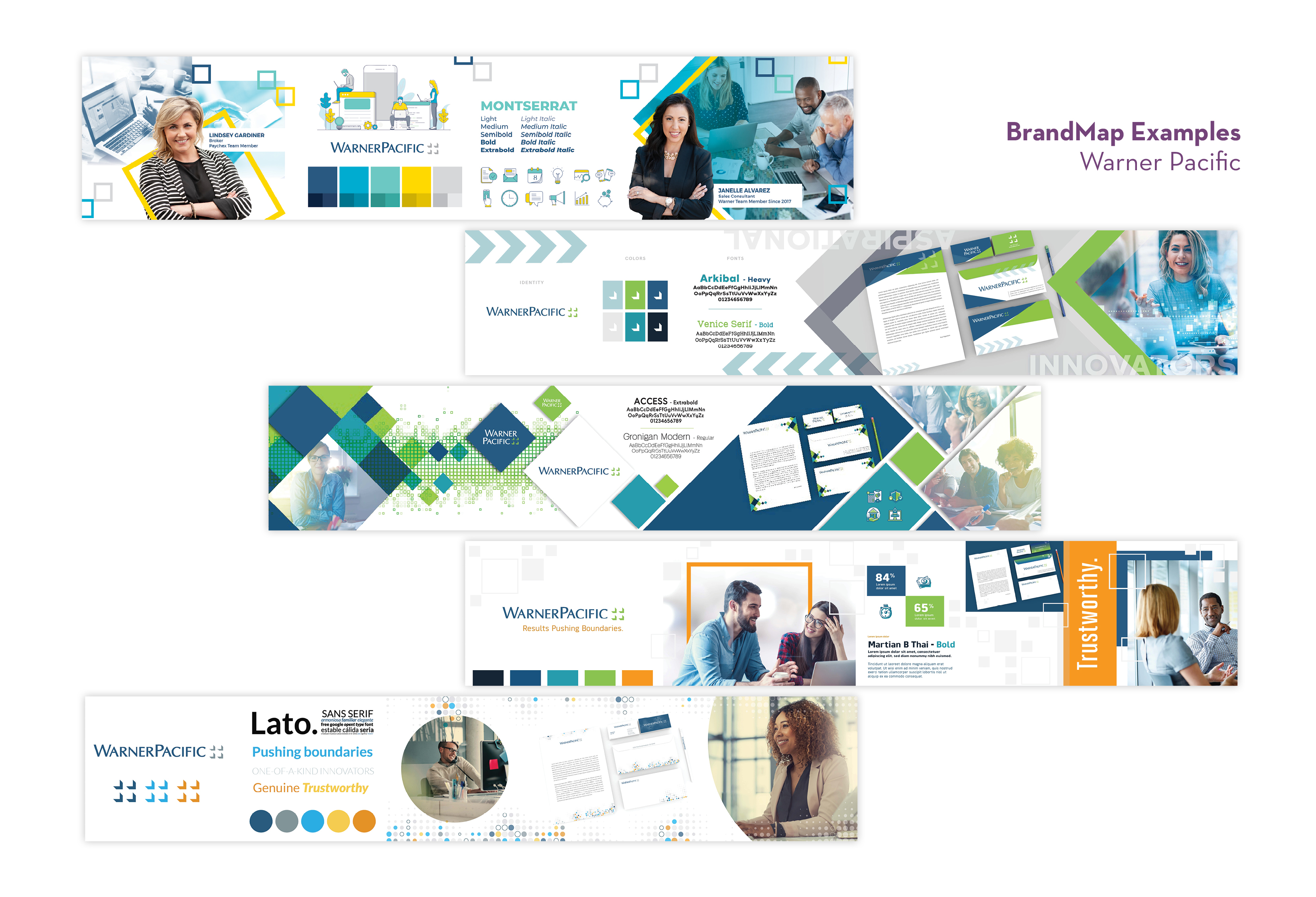 Results That Matter
With a solid brand strategy and a cohesive new look that resonates with the company's target audiences, Warner Pacific's new internal marketing team is a well-oiled machine, turning out compelling marketing materials that deliver consistently great results. And when they need help handling overflow work, Mustang always seamlessly steps in to lend a helping hand.
Ultimately, every project we take on has its own set of unique and fun elements that help satisfy our team's craving for bringing strategic creative to life, and we're always ready for the next challenge — no matter how big or small it might be.