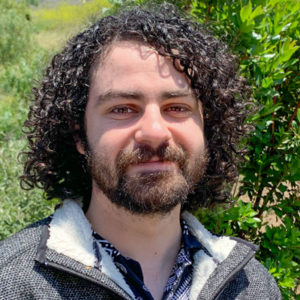 Shai Goldberg
Account Coordinator
Shai joined Mustang in 2022 as an Account Coordinator. For a guy with such distinctive hair, he wears a lot of hats — he writes copy, conducts research, coordinates projects, turns phrases and fills in the gaps where Mustang needs him. He loves to refine ideas and relishes the chance to find a clever twist. He's a little young to be so good at dad jokes, but it makes sense – he's half dad on his father's side.
Before working with us, he taught karate for 3 years at Shotokan Conejo Valley. The transition made perfect sense to him. He says it taught him small-business basics and how to punch up material.  Before joining Mustang, Shai worked as a research assistant for the Pomona College English Department, as well as in a pre-school through the JumpStart AmeriCorps program. He even spent several summers as a camp counselor, so he's always prepared to delve into and explain a new topic, from the alphabet and beyond.
Shai graduated cum laude from Pomona with a degree in English and linguistics. You could say he's a fan of – what are they called again? Words?
Shai has trained in Shotokan Karate since age 4 and took Shaolin Kung Fu in college.
Shai is an avid Dungeons and Dragons player.
Shai has an amateur passion for etymology, the study of word origins.